The official route for Itzulia 2022 was presented today 9 February. The presentation took place in the plenary hall of the Hondarribia City Council, the town that will host the start. The 61st edition of the race will start with an individual time trial in Hondarribia- Hondarribia and will finish in Arrate.
Julian Eraso and Roberto Laiseka have presented, together with the mayor of Hondarribia Txomin Sagarzazu, the Itzulia 2022 route that will take place from April 4 to 9 and in which 882.2 km will be covered. The route will cross Gipuzkoa, Navarra, Álava, and Bizkaia, in that order, ending at the already mythical Arrate Sanctuary.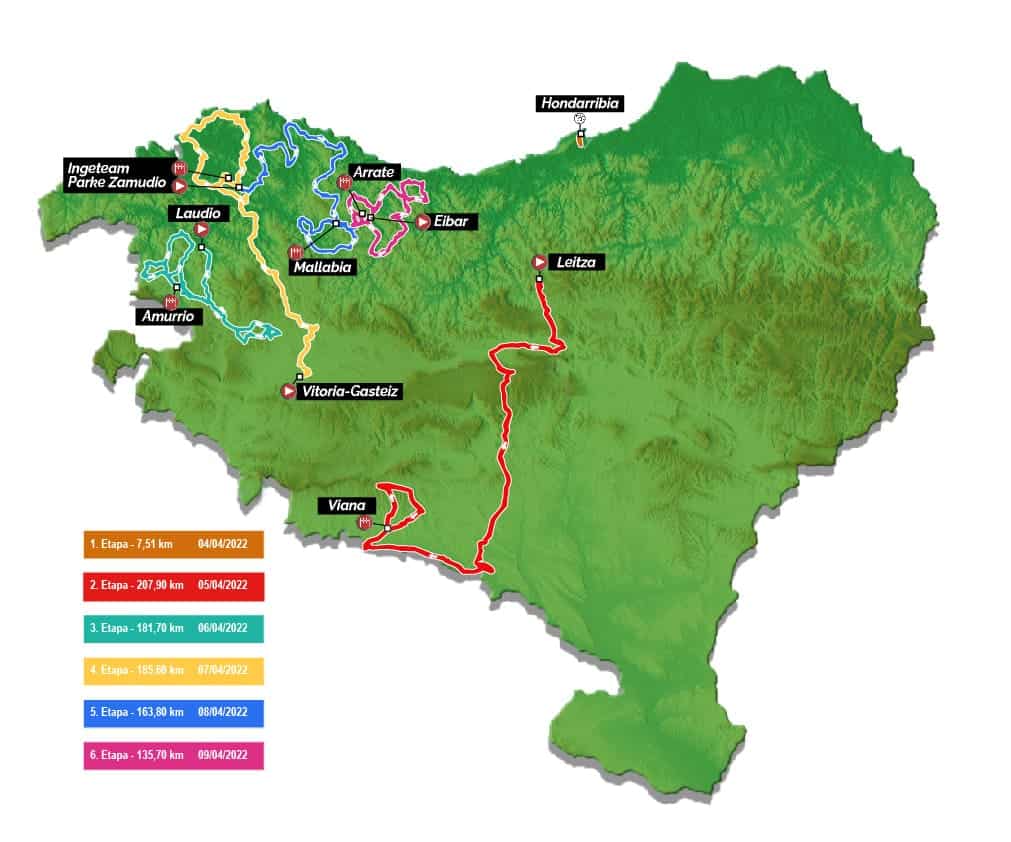 Roberto Laiseka, Technical Director of Itzulia analyzes each stage:
Hondarribia – Hondarribia (CRI)
"7.5 km ITT This year's Itzulia opens with a short stage featuring short, steep slopes. The first climb will earn riders points for the first King of the Mountain jersey. Some riders will go all out to try and win the King of the Mountain jersey and slight differences in time for the general classification will result."
"This is the longest stage in the race, and the terrain makes for a tough start. There may well be a breakaway, but it is unlikely to make it to the finish line, given that the differences from the previous day will be mere seconds.
It is possible that there may be some wind in the last few kilometres. This is a stage suited to sprinters if a team wishes to control it."
"This is a tough stage. It comprises two distinct parts: the first, as far as Laudio, is fairly simple. From there the second part comprises two laps of a real leg-breaker of a circuit on narrow roads, where there will be a great deal of tension in the peloton for position at the head."
Vitoria-Gasteiz – Ingeteam Parke Zamudio
"A stage that will a real battle from the start, so there could be a breakaway. The route has many ups and downs. At the end there is a steep climb where the top riders in the general classification can open up a gap.
This stage involves two different races: one between the riders who are are looking for top positions in the general classification and the other for those seeking to win the stage."
Ingeteam Parke Zamudio – Mallabia
"This is a complicated stage from the outset. There are no category 1 climbs but the terrain has continual ups and downs, and weather conditions can make this a very tough stage.
Team tactics will play a decisive role, with an explosive final stretch featuring a 16% incline in the last kilometre, so the leaders of the general classification cannot relax for a second."
"This is the "queen stage" of the Itzulia. There is little more to say. It is selective from the start and really tough. The leaders of the general classification will take centre stage, and it will take a great team to control the stage and take the crown in Arrate."